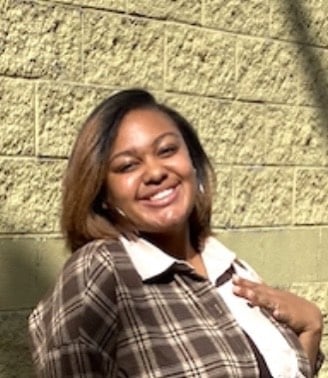 Each month our program directors choose from hundreds of Life Care Professionals (LCPs) to honor one amazing caregiver in each program who always lives the Kennedy Care values. This month, our Safe At Home Child Care LCP of the Month is Danielle Mitchell!
Get To Know Danielle
How long have you been part of the Kennedy Care family? 
I have been a part of the Kennedy Care family since February 2022 (1.5 years)
Why did you choose to join Kennedy Care?
I chose to join Kennedy Care because I found that I get a lot of joy working with children and knowing that I can make a positive impact in their lives. Also, knowing that our work as caregivers takes the weight off of the parents for the time we are working is fulfilling because they need a break too.
What is your favorite part of your job?
My favorite part of the job is the surprise element that I get while doing backup care. I never know what to expect and I like that because it teaches me how to adapt to unfamiliar environments quickly.
What is your proudest moment from your time at Kennedy Care? 
I have a few proud moments from my time at Kennedy Care, but my proudest moment is when I was doing on-going care for a family last year. She was two months old when I started caring for her and I was there 5 days a week, so I became a familiar face and a comfortable presence quickly. When I'd come in, she'd be in her rocker almost every morning. But one day, as I walked in and said "Hi Tootie" (I gave her that nickname), she smiled. I did that every morning and got the same smile everyday as I walked in. She was very special to me and I still miss her to this day. Her smile was my sign that I was doing my job right and that this job was meant for me.
What is a surprising or fun fact about you? 
I paint pretty well for someone who was never into drawing or painting in the past.
What are your hobbies? 
My hobbies are singing, piano, painting, and traveling.
What's your favorite season of the year and why? 
My favorite season of the year is Spring because I like the rain, I love watching everything bloom and come back to life from the winter, and my birthday is in the Spring. It's always sunny on my birthday despite how rainy it is around it.
What's your favorite holiday? 
My favorite holiday is Christmas because I like to spend time with my family! Plus Christmas songs and movies are the best, Christmas dinner is great, and there's a lot of love in the air! 
Thank you to Danielle and all of our LCPs for always going the extra mile with your care!